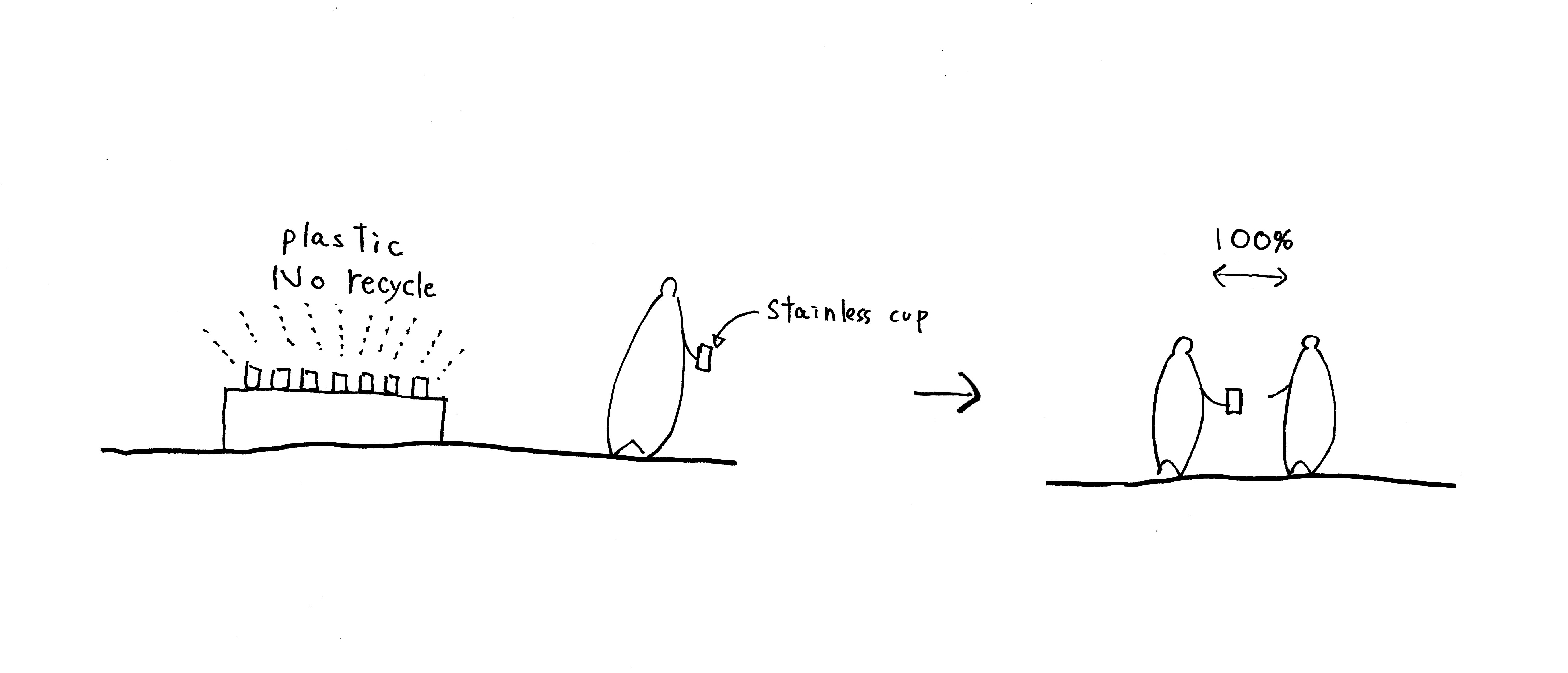 Kamakura and a garbage issue
Around 2,000 people visit the city of Kamakura every year. Kamakura is a popular sightseeing spot in Japan, and so, many people buy snacks or drinks and enjoy sightseeing as they eat and drink. We would love the people to have a great time here in the town, but as a result, there is garbage on the streets especially during summer season. One reason could be the shortage of garbage box around the city, but it is in the government hands to decide whether they put more garbage boxes or not. So, what could WE do with a garbage issue? We thought about if there is anything we could do to solve this problem and came up with an idea.
Stainless Mug
What we suggest here is this; stop using plastic cups and use stainless mugs instead at every cafe and restaurant in Kamakura. First, we create a mobile app. Both stores and customers register to this app. Customers order their drinks and pay on the app. When they arrive at a store, all they need to do is to pick up the drinks they ordered. When customers make orders, a deposit of a stainless mug gets charged, which will be returned when they return the mugs. After finishing their drinks, customers return their mugs to collecting boxes at any member store. When they return the mugs, they will scan the QR code of the box and the deposit money will be refunded. When it comes to collecting the mugs, we could build a NPO or some group together with the government. This will create more jobs, which is also a benefit for the community.
What's good about it?
Stainless is a strong material and great at keeping the drink warm or cold. We should create a sustainable system by using reusable materials instead of endlessly producing plastic wastes. Stainless mugs make it possible to reduce plastic wastes, preserve the view of the city, and has the possibility of creating employment. Besides, the stores are able to reduce the costs on their cups and customers don't have to carry around empty cups while they enjoy the city.
Lastly,
There will be various obstacles to tackle along the way, such as creating the app, collaborating with the cafes and restaurants in Kamakura, promoting the service, collaborating with the government. However, we believe this is worth trying to create a sustainable society where the natural environment and humans coexist in harmony.
If you are interested, please do not hesitate to contact us!
SDGs: 11. SUSTAINABLE CITIES AND COMMUNITIES / 12. RESPONSIBLE CONSUMPTION AND PRODUCTION / 13. CLIMATE ACTION